Time for 20-20 vision?
We've all had a rude awakening to 2020 – particularly here in Australia. The evidence shows that by not taking heed of what we already actually know, or by not listening to those who have a deep insight into problems, very bad situations can arise.
We know a lot about safety of vulnerable people mixing it with cars on the roads and about designing cities that are safer, more liveable and environmentally friendly. There are examples from many places around the world where listening to the 'experts' has produced safer and more livable cities. Our engineers, designers and politicians, nod and largely agree, but like much inaction on climate change, don't see the urgency, or see it as too expensive (compared to what we wonder?) , or just feel more comfortable doing things "the way we've always done it".
WATAG asks you, as a citizen, engineer, designer, Councillor or politician, to read the articles below and assess whether you are doing all you can to make a real change.
What's a great city all about?
What can we say except to add "or a child walking" to those who want to go safely.
And to suggest you click on the delightful short video below
---
Why is this photo very good!
This photo is very good for two reasons:
It shows the final resting place of an unnecessary and badly installed bollard
Whitehorse Council took action to remove the bollard with no external prompting (that we know about!).
Here's a pictorial history for this bollard at the entrance to Wren Close Reserve, Nunawading:
NOW...with a few changes at Council since then, and following an internal Council re-think about unsafe and incorrect bollard installation, Whitehorse has been steadily removing inappropriately placed and incorrectly installed bollards. And, as shown at the top, the entrance to Wren Close Reserve is much safer.
WATAG says – "WELL DONE WHITEHORSE COUNCIL"
Maybe this new and very welcome approach to removing hazards on shared paths will finally see this totally unwarranted and dangerous mid-path bollard removed from Blackburn Creeklands adjacent to the eastern end of the Blackburn Bowls Club carpark.
We have our fingers crossed, and just hope that no-one hits it in the meantime!
---
Walkable Streets are More Economically Productive
Courtesy "Strong Towns" January 18, 2018 by Rachel Quednau
"In truth, you don't really need a study to tell you these things. Visit the most thriving commercial district in any city — the one full of shops and restaurants and people — and I would bet that it's an area where walking is prioritized."
People-oriented Streets Encourage Business Activity
Streets where walking is safe and easy are streets where businesses usually thrive. A number of studies have confirmed this over the last several years.
For instance, in a 2011 report for Australia's Heart Foundation, Dr. Rodney Tolley concludes:
Streetscape enhancements add value to an area and are associated with higher rents and the attraction of new businesses. In addition there is good evidence to show that improving walking and cycling environments raises private property values by significant amounts.
---
It's official: Cycling to work – you may live longer!
People who cycle to work have a lower risk of dying, a New Zealand study has found.
The study, by researchers from the University of Otago, Wellington, the University of Melbourne and the University of Auckland, has just been published in the International Journal of Epidemiology – as reported in Mirage News.
Lead researcher Dr Caroline Shaw, from the Department of Public Health at the University of Otago, Wellington, says people who cycled to work had a 13 per cent reduction in mortality during the study, likely as a result of the health benefits of physical activity. There was no reduction in mortality for those who walked or took public transport to work.
Dr Shaw says the study, which analysed data from 3.5 million New Zealanders, is one of the largest ever cohort studies to examine the association between mode of travel to work and mortality outcomes.
"We studied 80 per cent of the working-age population of New Zealand over a 15-year period, so it is highly representative."
Dr Shaw says increasing 'active transport' is being promoted as a way of addressing health and environmental issues, but the association between different modes of transport, such as cycling, walking and public transport, and health outcomes has remained unclear.
Read the full article here.
WATAG loves the reference to Active Transport, so we especially agree with the last paragraph.
---
New research: Walking and transport in Melbourne suburbs
When it comes to how people get around in the suburbs, it seems appearances can deceive. A new report on Melbourne transport has found people walk to suburban shops much more – and drive a lot less – than shopkeepers believe.
Walking and transport in Melbourne suburbs, released today by Victoria Walks with the support of VicHealth, analysed a range of household travel data that has not previously been publicly available.
To gain a picture of travel in the middle and outer suburbs, the researchers compared a range of mainstreet style shopping strips against similar-sized car-oriented shopping centres.
"For trips up to 2km, 43% of people walk to retail strips in the middle and outer suburbs, but only 17% walk to shopping malls," said Dr Rossiter. "If you design for cars, you get cars. If you design for walking, you get walking."
"Alarmingly, Melbournians make nearly half a million car trips each weekday to travel to destinations less than 1km away" Dr Rossiter said, "but we can change this by designing suburbs for walking."
---
We can't do that!
They say "We can't do that. We're not Amsterdam."
You respond "Amsterdam wasn't always like that either,"
The before & after transformations shown below illustrate that cities we admire –
made choices rather than making tired excuses.
Australia's streets could be transformed to be Active Transport friendly too.
We'd love to see this become part of Box Hill's redevelopment into a major CBD.
---
Cutting Car Addiction
Radical Ghent-Style Plan To Cut Car Addiction. Birmingham—the U.K. "motor city" of Spaghetti Junction fame—wants to reduce the number of car journeys in the city.
The "allocation of road space will change away from single occupancy private cars," promises the Birmingham Transport Plan launched on January 13.
The idea is to "move people not [motor] vehicles," adds the draft masterplan, saying that, in the near future, there has to be preference for "mass transit and active modes of travel."
Currently, 25% of all car journeys in Birmingham are one mile or less. To discourage such use—and reduce congestion and improve air quality—Birmingham City Council plans to introduce a motor-traffic circulation plan similar to the one that the Belgian city of Ghent implemented in 2017.
Read the full article here. From: Carlton Reid
And here's a glimpse into the Ghent story
Groningen in Netherlands did it too.
---
Oslo cut road deaths to one in 2019. Can we do the same?
The "humans of Oslo" have reclaimed the streets from cars, with not one road-related death of a pedestrian, cyclist or child in 2019.
In a success that has inspired city planners and road safety experts, Oslo recorded only one road death, a motorist who crashed into a railing at a train station. Norway plans to reach "Vision Zero", and eliminate road-related deaths within four years and do more to reduce, and ultimately eliminate, serious injuries.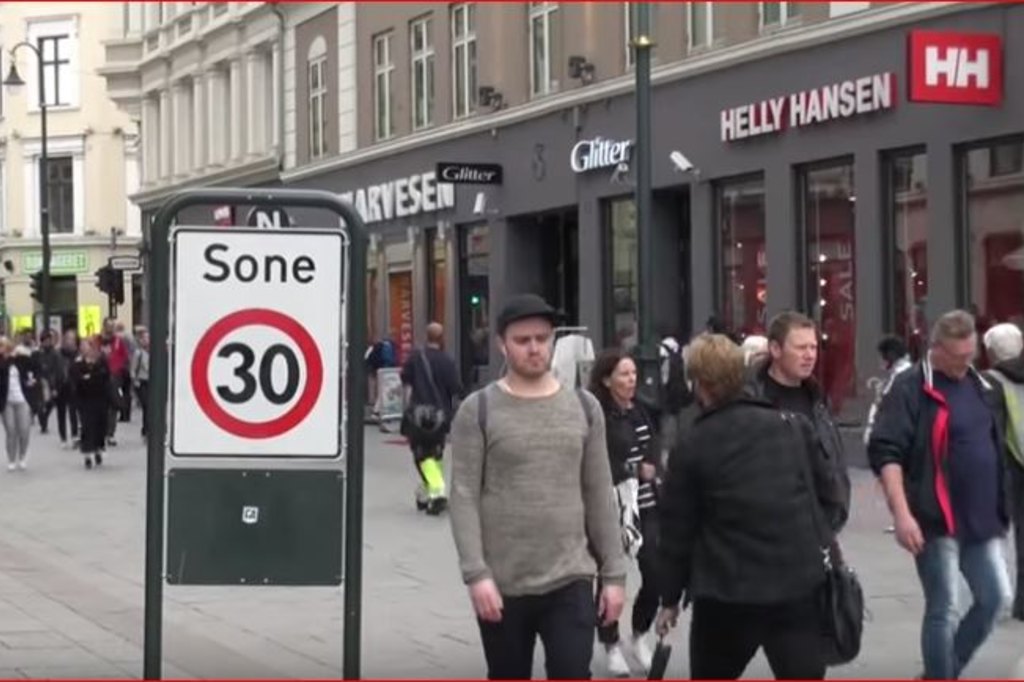 In a first since WW II, not one child under 16 died on Norwegian roads in 2019.
Oslo's road fatality rate of 0.1 death per 100,000 people compares with 1.6 deaths per 100,000 people when compared to four Sydney local government areas, including the central business district, with the same total population.
Not one council in NSW, Victoria or the ACT has reported zero deaths every year from 2010 to 2018, according to a Federal Government road safety dashboard. (Click the link and check out your council). Out of 537 Australian councils, only 19 – mostly the tiniest in Australia – had zero deaths.
We CAN do much better too – Here's how to start.
New Austroads Guide
The Movement and Place Framework will lead to environments that safely cater for all road users and enable more proactive and lasting road safety benefits. This is particularly important for the liveability of places and vibrant streets, where there are greater numbers of pedestrians and cyclists. They are inherently more vulnerable in crashes, and crashes are more likely where vehicular movements dominate these environments without full consideration for other road users. The aim is to eventually eliminate deaths and serious injuries to pedestrians and cyclists on Australasian roads.
This Framework emphasises the need to move away from the one-size-fits-all solutions to accommodate vulnerable road users, and to use 'context sensitive design' principles. Solutions which are practical and which reduce the likelihood of an injury are preferable to no solution at all because some 'standard' is not complied with.
Of particular note is the recommendation to use 30km speed limits – as is advocated in several articles above.
---
Fat cyclist and very proud!
From: Theresa Vargas Columnist – https://www.washingtonpost.com Jan. 19, 2020
Let's get this out of the way: Kailey Kornhauser knows she is fat.
She also knows you know she is fat.
For a while, she fooled herself into thinking that if she didn't use that word to describe herself, that if she posted enough photos of herself on a bike and restricted what she ate, especially in front of you, you wouldn't see her that way.
Kailey Kornhauser, 27, of Oregon, uses a bicycle to get to work and also goes on multiday cycling trips. (Photo: Kailey Kornhauser)
Now, she recognizes how unhealthy that was for her. Now, she owns who she is. And who she is, she'll tell you proudly, is a "fat cyclist."
"I was always trying to change the fact that I was a fat cyclist into being just a 'regular' cyclist," the 27-year-old says on a recent afternoon. "Now, I spend my time loving myself and moving my body because I enjoy moving my body and not as a punishment to my body."
Search "cyclist" online and look at the images that pop up. The first dozen spandex-clad people you see might differ in some basic ways. They might be male or female, blond or brunette, young or not so young.
---
It really pays to cycle
---
Why we moved our family to the Netherlands
By Kylie van Dam, Wed 16 May 2018, courtesy of Guardian News & Media Ltd
When Kylie van Dam went in search of an Active Transport friendly city she found the almost car-free suburb of Houten. It's a model more cities could copy, she writes.
Before I'm out of bed, our 15-year-old slams the door and jumps on her bike, heading for school and meeting friends along the way.
Last week, our eight and 13-year-olds attended four parties between them. They scoffed the obligatory birthday sugar, went bowling, shot lasers, played mini-golf and patted sheep – traveling to and from all of these activities by bike. There wasn't a helmet or scrap of hi-vis between them. (Ed: Cycling is so normal and safe there that you don't need these. But we suggest that in other not so enlightened cities, you make yourself visible and keep yourself safe – at least until YOUR city makes it just as safe as Houten)
This is daily life in Houten, a suburb of Utrecht in the Netherlands. Spend any time here and you'll soon see hordes of kids riding their bikes to gym lessons, parties, after-school care or sports activities through wind, rain or shine. One of my favourite Dutch expressions is "Jij bent niet van suiker gemaakt" ("You're not made of sugar"), meaning you won't dissolve in the rain – so get on your bike.
This lifestyle drew us to the Netherlands from Britain. After 15 years of dreaming – via Sydney, London and Norwich – we went in search of a more cycle-friendly city.
We can't all move to the Netherlands.
But we can all help to move our community's attitudes, and those who govern us, to more closely align with those in the Netherlands.
That way we can help create our own Active Transport heaven right here!
---
How electric bikes can make cities safer
E-bikes are a game-changer for the people who need them most
From: Alissa Walker (@awalkerinLA) Nov 30, 2018 – https://www.curbed.com
The mayor of one of the best biking cities in the U.S. is not a fan of electric bikes.
"We have a safety issue that is quite clear to me," said New York City Mayor Bill de Blasio at a press conference this week. "I've heard it from so many people in the city around the bikes that go very fast."
To de Blasio, e-bikes represent "a real danger," and his administration has been cracking down on a particular type known as throttle-powered, which allows a bike to move without pedaling. The crackdown unfairly targets a mode of transportation the city's delivery workers rely upon—while the city's bike-share system rolled out its own electric pedal-assist bikes and its Department of Transportation launched a pilot program with dockless e-bikes.
Now New York's City Council is hoping to change all this. The city's legislators recently introduced a bill to legalize all electric bikes, as well as electric scooters, on New York streets. In addition to allowing the pedal-assist bikes offered by bike share companies, New York City would legalize throttle-powered bikes, and e-scooters, like Bird and Lime, which are also throttle-propelled.
Check out Melbourne's entry to electric bikes announced by Lord Mayor Sally Capp Early February 2020.
The new scheme comes after several failed and much-maligned bike-share schemes in Melbourne in recent years.
Check the full article here from ABC News. Photo by ABC News: Patrick Rocca
---
NEL Bidders – Please take note.
The NEL CTDG – Walking & Cycling produced a comprehensive report on many walking and cycling needs identified, but not included in the Reference Design.
The NEL Community & Stakeholder Relations personnel who coordinated the CTDG advised that such a report was a way for Reference Design deficiencies to be made known to the bidders, and that the competitive process would inevitably lead to some or all of the recommendations being adopted. CTDG members would have far preferred the Reference Design to have included most of these recommendations.
Members of the Group compiled a comprehensive report totally independently, and NEL facilitated its final layout and preparation.
Scroll through and read the report below.
Or click here to download: Walking & cycling report to bidders
---
Interested in being Active too? Here's how.
Join a local group that enables you to be active and social too!
Like walking (and some bike riding too)?
2. Or is regular bike riding your idea of fun?
Whitehorse cyclists
We are a happy group of men and women who love the outdoors, enjoy riding bicycles and thrive in other people's company.
Bike parking is easy for morning tea time at Aqualink Box Hill during a Whitehorse Cyclist's Easy Tuesday ride.
Around 25 riders getting fitter and enjoying the company of friends.
Good for local business too by putting money back into the local community.
---
A question for YOU
If you HAVEN'T received these newsletters regularly every two months, this question is for YOU.
Did you enjoy THIS newsletter, and would you like to read future newsletters every two months?
Click here:
Thanks for answering.
---
Help needed!!
Become a WATAG Member. An Annual membership of $10 or less helps support us, and most importantly your membership will increase our relevance when we reach out to the local authorities and the community.
Visit the WATAG Membership page and sign up today.