Is 30km/h coming to a city near you?
"We want to create streets that everyone can enjoy – whether they are walking, driving or riding. We want people to feel safer, which in turn will make them more likely to spend time in the streets."

Yarra City Council
Research from around the world shows us that 30km/h is the safe speed for areas where there are pedestrians and cyclists. International examples and a growing body of evidence show us that lowering speed limits in these areas is the right route to take.
Road safety strategies from around the world, including Victoria's own Road Safety Strategy – Towards Zero 2016-2026, recognise this.
Research shows that a fatal injury to a pedestrian is at least twice as likely to occur in a crash at 40km/h than at 30km/h.
Overall, if average speeds are reduced by just 1km/h, road crashes are reduced by 2-3%.
Research also shows that reduction in speed limits in urban areas has minimal impact on travel time. Travel time in built-up areas is related to how much time is spent slowing and stopping at intersections, parking and in local congestion. Maximum travel speed has very little to do with travel time in these areas.
30km/h (or 20mph) speed limits are working in cities and towns all over the world. It's time to bring them to Australia.
See More about 30km/h below.
---
---
Predicting the future
The Netherlands
Recently it was announced that 16 Dutch municipalities have announced zero-emission zones for city logistics by 2025; expected to soon rise to 30.
The logistics company DHL, has already replaced about 60 percent of inner-city vehicle routes in more than 80 European cities in 13 European countries with cargo bicycles.
Together with Cargo Cycling they have developed "The Chariot" (after the Roman chariot), will replace DHL's existing cargo bikes. Receivers of express packages in Amsterdam have the scoop; as of this week, DHL Express delivers packages in the Amsterdam city center with the Chariot. In the initial phase, 36 Chariots will be deployed in over six Dutch cities including Rotterdam, Utrecht, Groningen, The Hague, and Leiden.
In concrete terms, this means there will only be completely emission-free freight vans and trucks in their cities.
And a study has shown a bike using cycle lanes can complete a trip within Amsterdam six times quicker than a vehicle using the roads. No wonder it's commercially viable, and it's no surprise that cargo bikes are very popular for school runs too!
Leeds UK
Leeds City Council says: "We're excited to announce a new electric-cargo bike loan scheme for businesses in Leeds to apply to so they can keep their deliveries green. Read more details here.
"The council is committed to reducing transport-related pollution to improve the air quality in Leeds. We have declared a climate emergency, and one of the ways we can help the city achieve net-zero carbon by 2030 is to offer businesses the opportunity to test local low-carbon delivery solutions. This new, free scheme is one of the first in the country.

"E-cargo bikes offer a cost-effective, versatile and attractive alternative to cars and vans for local trips. We are confident that they will become the first choice for everyday deliveries for many more businesses in the future."
The aim of the scheme is to reduce the pollution from heavy goods vehicles in Leeds, and Leeds University plan to use the e-cargo bikes to move large, heavy or bulky loads around its campuses.
New York and Worldwide too
When rethinking the streets, don't forget the power of cargo bikes – this is an excellent review with lots of up-to-date information on who is doing what, and where.
Melbourne?
Good Cycles empowers young people facing barriers to work by offering them employment pathways. They improve their futures and contribute to more sustainable cities…AND…they promote use of Bikes to achieve their goals.
In Melbourne, Good Cycles works with City of Melbourne, City of Port Philip, City of Yarra and CityWide, amongst others, to provide a range of services.
Using a fleet of electric cargo bikes in place of heavy vehicles, CityWide are able to provide maintenance and logistics in an efficient way that reduces congestion and emissions in Melbourne's CBD.
What a great example for the City of Whitehorse to follow in Box Hill as part of its development as a major Metropolitan Activity Centre and second only to central Melbourne as a CBD.
---
The promise of urban vitality
"The Dutch blueprint for urban vitality isn't about bicycles. It's about refusing to sacrifice vast amounts of the public realm to the private car; instead reserving it for commerce, community and social connection.
The ubiquitous bicycles are simply a byproduct of that process."

Chris Bruntlett – LinkedIn
Why is there an urban vitality about many Dutch towns and cities? Can we have the same vitality in Australia?
Chris and his wife Melissa first visited the Netherlands in the summer of 2016, and quickly fell in love with its seemingly effortless bicycle culture, and unique approach to transport planning. It inspired them to co-author the book, "Building the Cycling City: The Dutch Blueprint for Urban Vitality", which we have featured before. It inspired them to relocate to the Netherlands too!
---
Encouraging walking and cycling isn't hard
The Conversation gives three tried and tested methods
This Conversation article is written about the UK, but the three methods suggested are totally applicable here in Australia.
20-minute neighbourhoods
School street closures
Scale up plans into city-wide schemes
We will comment here specifically about 20 minute neighbourhoods.
Orford Rd Walthamstowe was part of a "Mini Holland" program to make the streets safer to walk and ride and to reduce pollution – plus many other benefits.
The street used to have 7000 vehicles per day. The before and after photos above show the difference after the plan was implemented.
There were many protests about the traffic restrictions when they were first implemented. Now it looks like the kind of picturesque street we'd all love to have in our area. See photo on left.
It's not surprising that a longitudinal survey done in the following years showed that less than 2% of residents would get rid of it.
On a similar note, the Islington Council in London, wanted to make St Peter's Streets more 'people friendly'. They introduced measures to be trialed over 18 months. You can read about the details here:
It is interesting to read some of the comments posted when the changes were first introduced – a divergent set of views. Some loved the changes and many hated them because they were a bit inconvenient for them personally. But, importantly, Islington Council kept track of progress and provided a monitoring report after 6 months. It's very positive and shows that Councils must lead the community, and seriously try things out. Then give them time to "settle in" adapt and get used to the changes. You can read the report here.
Another local Conversation article asks the question: "People love the idea of 20-minute neighbourhoods. So why isn't it top of the agenda?"
In fact Plan Melbourne 2017–2050 – the Victorian Government's long-term plan to ensure Melbourne remains liveable, sustainable and accessible to people of all ages and abilities – is guided by the principle of 20-minute neighbourhoods, liveable places where people can access most of their daily needs locally without needing a car.
It's excellent that the draft Whitehorse 2040 Vision recently prepared by a Community Panel, included as a Key priority for the Movement & Public Space theme:
"Create low-traffic neighbourhoods where people can move safely. We should aim to create 20-minute neighbourhoods"
You can read the draft Whitehorse 2040 Vision here and provide feedback by 25th April 2021.
---
Imagine this
Take a moment to view this masterpiece of animation. You will LOVE it.
Fascinated? Here are some more of Jan Kamensky's fabulous creations.
It certainly shows how a Utopia for walking and cycling could be created so easily.
WATAG would love to see an imaginative re-creation of Box Hill main streets as it progresses towards becoming Victoria's biggest metropolitan activity centre after the Melbourne CBD.
How about giving him a call City of Whitehorse!
---
More about 30km/h
Attitudes and opinions are changing.
Local and national authorities are taking matters into their own hands.
City after city are implementing 30km/h as default.
AND…
Dublin is taking 30km/h VERY seriously with a very comprehnsive community consultation program to ensure full acceptance. Check out this video – for those with a deep interest. It does run for 2 hours!
The European Cycling Federation recommends 30km/h as the default speed in urban areas.
Ministers from around the world adopted the "Stockholm Declaration" at a conference held in February 2020. It includes a commitment to 30km/h speed limits in any areas where vulnerable road users and vehicles mix. Read report here.
In September 2020, the General Assembly of the United Nations has called for "the strengthening of law enforcement to prevent speeding and mandate a maximum road travel speed of 30 km/h in areas where vulnerable road users and vehicles mix in a frequent and planned manner, except where strong evidence exists that higher speeds are safe" See report.
YET…
In Victoria the DoT (VicRoads) Traffic Engineering Manual does not list 30km/h as an allowable speed! Under the guidelines, 30 km/h speed limits are effectively not an option available to road managers without taking extraordinary steps to enable it.
A Parliamentary Inquiry into the Increase into Victoria's road toll reported this. Check out section 4.4.1 – Urban speed limits (page 72-76)
It also noted that:
"Local government stakeholders in this Inquiry in favour of introducing 30 km/h speed zones told the Committee that the current procedures in place to achieve speed limit reductions were 'cumbersome' and 'inefficient',"
and:
"[Councils] suggest that government simplifies the process for local government to implement speed limit reductions on both local and arterial roads … This would be particularly applicable in neighbourhoods where walking trips form a large part of the mode share due to local services such as schools and community centres"
It concluded:
FINDING 13: Local councils involved in this Inquiry have found the application process to change speed limits in specific areas to be extremely difficult to navigate. They believe the application process should be streamlined.

WATAG totally endorses the local Council views, and asks that the Minister take action to review the speed options available. Also needed are changes to the Road Management Act to delegate appropriate authorities to local Councils. This will make it easier for Councils to try out, and implement speed changes appropriate for their local suburban streets.
---
New electric bikes?
Maybe as the saying goes " There's nothing new under the sun!"
Check out this fascinating history of the electric bike from the 1800's.
And speaking of the past, the above article about Predicting the Future might owe something to the following when it comes to cargo bikes.
---
How to cut travel time
---
A metre matters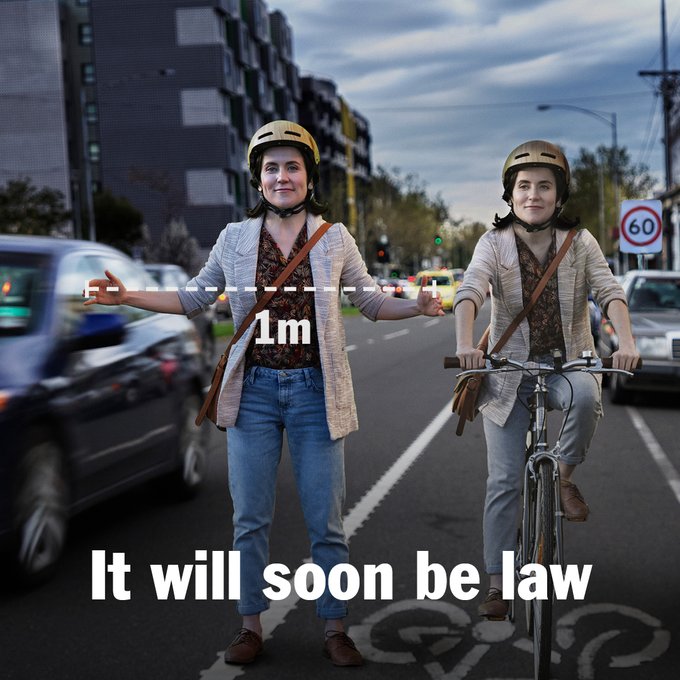 The TAC anticipates that this law will be in place by the end of April. The mandatory minimum passing distances will be a regulatory change.
It can't come soon enough!
---
The last word
---
Interested in being Active too? Here's how
Join a local group that enables you to be active and social too!
Like walking (and some bike riding too)?
2. Or is regular bike riding your idea of fun?
Whitehorse cyclists
We are a happy group of men and women who love the outdoors, enjoy riding bicycles and thrive in other people's company.
Bike parking is easy for morning tea time at Aqualink Box Hill during a Whitehorse Cyclist's Easy Tuesday ride.
Around 25 riders getting fitter and enjoying the company of friends.
Good for local business too by putting money back into the local community.
---
---
Some questions for YOU
If you HAVEN'T received these newsletters regularly every two months, this question is for YOU.
Did you enjoy THIS newsletter, and would you like to read future newsletters every two months?
Thanks for answering!
.
---
Tell us what you think about articles in the newsletter in the "Leave a Reply" box below.