Its hard to make progress
Sometimes it feels as if advocating for better Active Transport infrastructure and Smart Street city design is very hard – like peddling a square wheel!
But when small things happen which indicate that momentum is slowly building, there is encouragement to continue. See Small successes are sweet below.
And sometimes really big things can give hope too.
Covid-19 has led to a lot of attention being given to to Active Transport. There are many articles below relevant to that. We could have referred to many, many more.
---
A World Wide Welcome
Since our last May/June Active Whitehorse News, we have had many new subscribers added to our Subscriber List from all around the world.
WELCOME to ALL!!
It's very encouraging to know that we are not alone in our efforts to help make Active Transport more the 'norm' and less the 'weirdo exception' !
The Dutch have done it for years.
For those with a bent for reading about such things, the academics tell us that the "National Habitus" for The Netherlands places Dutch cycling as a defining culture. It's a paradigmatic example of national similarity. This interesting article explores this.
For the rest of us…read the eclectic material gathered from worldwide sources and presented below.
Happy reading!
---
Here's what's in this edition
---
Active streets – the new normal
The Australian Heart Foundation is world recognized for its sensible messages to keep us healthy. Here's one of their latest messages. We LOVE it
---
Small successes are sweet
We noted above that sometimes the little things give hope that bigger things are on the way.
Box Hill – Ringwood shared path
The final section of this major route is finally taking shape. The overall concept was the brainchild of three Whitehorse Cyclist members (who now make up bicycle user and advocacy group MeBUG). They worked hard over many years to get the Victorian Government to support it being built.
The most contentious section between Middleborough Rd Laburnum, and Blackburn Station is now being installed. WATAG has consistently advocated for an alternative route away from the road, which would have also filled in a missing pedestrian link for residents now cut-off from Blackburn Station. However an on-road route has always been preferred by the Government along Laburnum St, together with a new route through Laburnum Station Park.
Laburnum St.
Road marking and sharrows now have made cars aware that this is a shared route. But unfortunately we failed to get the kind of safe street where most parents would allow their children to ride unaccompanied. We believe that the totality of this work is below modern safe-street status as would apply in The Netherlands or as recommended by design guides from all round the world.
We hope that, in the future, Whitehorse Council will build upon the start made now to further modify the road to make is even safer.
Laburnum Station Park
After months of persistent and polite negotiation, we convinced the Council and the Department of Transport (the funding and construction agency) to adopt a more direct route through the park. It was in fact the cheapest, easiest to construct and was safest for all. It also preserved far more of the park as play space for locals to use.
This was achieved at an on-site meeting where all stakeholders were represented. it gives greater hope for similar consultation in the future.
Bollards and hazards
Whitehorse Council has been responsive to requests to remove hazards for the disabled, the elderly and bikes. Here's a couple of examples this year.
We've written before about the benefits of using Snap Send Solve.
Download Snap Send Solve here.

So it's really pleasing to report that Whitehorse Council has officially agreed to work with Snap Send Solve to receive reports about hazardous or other reportable situations encountered while walking or riding. Refer to the Council website.

As you can see from the above photos, Snap Send Solve really works!
---
Recycled plastic roads
Ready for rollout after bike paths prove successful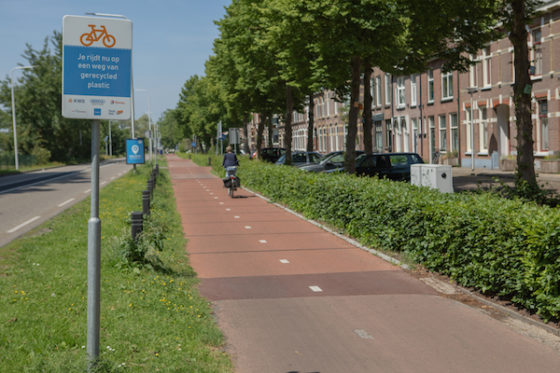 Two successful trial runs of cycle paths made from recycled plastic waste have paved the way for larger scale projects in the Netherlands and abroad, the developers have said.
KWS, plastic pipe maker Wavin and Total oil said on Thursday that after a 18 months of testing and developing, they now have a design suited for industrial production and that the technology is ready to be launched on the market in the first quarter of 2021.
The first plastic cycle paths, which were built in Zwolle and Giethoorn with local council support, have proved to be able manage excessive water from rain, severe drought and everything in between, the makers said. The two 30 metre bike paths, which were made using 1,000 kilos of recycled plastic, were also found to have reduced CO2 emissions by some 50% to 70% compared to concrete or asphalt paths, the makers claim.
Sensors in the paths were also used to monitor wear and tear and the paths were found to stand up well to heavy weights, like refuse and maintenance trucks. 'We have proven that our ground-breaking circular concept – a prefab road based on recycled plastic – is feasible in practice,' Marcel Jager and Anne Koudstaal of the PlasticRoad team said.
The next generation of roads will be more robust still which will make the concept a viable alternative for asphalt and concrete motorways and car parks as well pavements and school yards, the group said.
The roll out will initially be focused on clients in the Netherlands and neighbouring countries, after which they expect to scale up to markets in other parts of the world, the makers said.
Read more at DutchNews.nl:
---
A car is a car is a car!
Surely there must be another way?
Adding another lane won't help – it never has in the past.
---
Peddling around the world
Ever heard the story of the first man who virtually rode around the world? And how he decided to quit his job, became a professional cyclist at the age of 53 and rode 100 miles per day for six months on a bike trainer?
And how he did it to raise money for Bowel Cancer.
Click here for the mind-blowing story of Chris Daniel.
---
Streets for people
Is Tactical Urbanism a new concept for you?
With the motto 'Short term action for long term change', tactical urbanism refers to a city, organisational, and/or citizen-led approach to neighbourhood-building using short-term, low-cost, and scalable interventions to catalyse long-term change that improves the experience of pedestrians and cyclists.
Cities around the world have been exploring and testing short-term public space initiatives in recent years and, beyond its immeasurable negative consequences, the COVID-19 pandemic has undeniably created opportunities for further assessment and reflection in this direction. What and who are cities for? How will people move around and interact in our cities moving forward? Were cities in 2019 the cities we want in 2029? 2039? 2049?
At an Austroads webinar, held on 21 July, leading practitioners Mike Lydon, Claire Pascoe and Sara Stace talked about the latest actions in tactical urbanism and how they influence the rethink of public space to build cities that are more inclusive, safe and prosperous for all. Click the image below to watch the webinar.
If instead you'd like to read the presentations, here are links to pdfs:
NOW… check out this great Tactical Urbanists Guide to help you help your community.
Scroll through the document below to get an idea of its value or click the link above to see a great 'page-turning' version and download it to your computer for further reference while you put the ideas into action!
Want more inspiration?
In these Covid-19 challenged times where many are confined to barracks at home, this Victorian Health Department webinar will fill in a profitable hour.
---
The challenge of car-dependency
Active Transport advocates (such as WATAG) say a lot about trying to get conditions right so that the 60% of adults who are too timid to ride at present will stop driving and start cycling. But car dependency makes this a challenge.

Could finding ways to make it easier for teenagers and young adults to keep cycling have as much impact on mode share?
The Dutch Cycling Embassy asked this question recently on LinkedIn
They link to an excellent research paper which is worth reading, and considering the ideas in an Australian context.
The authors say that mode shift programs focus on convincing people who drive, to cycle instead. This is a challenging transition given the obstacles associated with car dependency. They note that this means identifying the obstacles to cycling and then finding ways to remove these obstacles. However, changes to the cycling experience will not affect people who do not cycle, and therefore may have little influence over their established practices.
They looked at two different approaches used in The Netherlands. One considered mode substitution only in the form of car trips that could potentially be taken by bicycle. The other approach reflected a broader conceptualization of substitution in which a person who cycles for all of their trips and does not own a car is substituting all driving trips for bicycle trips.
In the Netherlands, the elements of cycling practice are established by a large portion of the population at a young age. As people get older, cycling rates generally drop. People under 30 were the most likely ones to change from a cycling commute to a car commute. A possible reason for this decline is that people's decision to purchase a car in the Netherlands is frequently paired with a major life event, such as starting a new job, having a baby, or retiring.
The high cycling rate in the Netherlands, therefore, is not a result of a large number of people having chosen to give up their cars and start cycling instead, but rather the result of people who grew up cycling and who continue to do so. Since cycling rates in the Netherlands are highest among younger people, overall cycling rates can be increased (and driving rates decreased) by lowering the number of people who shift from cycling to driving after a major life event.
"The Netherlands has a significantly higher cycling rate than other countries (European Union Economic and Social Committee, 2011). For example, in the United Kingdom, cycling trips comprise approximately 2% of all trips (Spotswood et al., 2015) and in Australia the rate is closer to 1% (Harms and Kansen, 2018) while in the Netherlands 27% of all trips are made by bicycle (Harms and Kansen, 2018). This could be one explanatory reason for the absence of scholarly attention to maintenance of sustainable transportation practices, particularly in relation to cycling."

and

"However, while the cycling rate may be higher in the Netherlands, life events have been shown to be associated with changing cycling practices in other countries as well. …
… An Australian study found that decreases in cycling rates among women were linked to many of the same events listed in the Dutch study of auto acquisition (moving to a new house, starting a new job, and having children)(Bonham and Wilson, 2012)."
---
Are cargo bikes a lot of rubbish?
No! Rubbish actually disappears using cargo bikes in Delft
And it means there are no large garbage trucks with exhaust fumes over the narrow historic canals of the city center of Delft, but electric cargo bikes instead.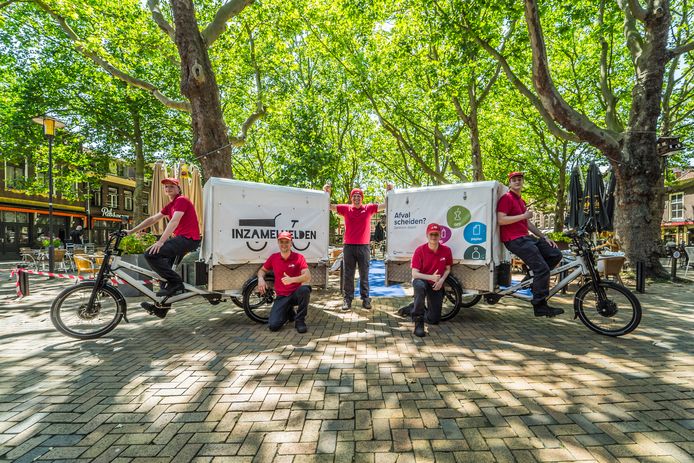 A start-up company Collection Heroes (link will need translation!) by Dion Blijlevens (26) and Tom Ruijmgaart (23) has received only positive feedback after a six month trial – from the customers, the municipality of Delft and waste processor Avalex, who are all participating in the trial. It's A fresh look at collection!
Collection Heroes collect waste (different value streams) daily or according to need from private individuals, shops and offices. Door to door. They say:
"From now on you no longer have to worry about your old paper, cardboard or packaging material. We are happy to collect it from you. Daily or in-demand, based on your use of our App. Very handy.
So you no longer need that unattractive roll container or bin near your door. You immediately improve the appearance and appearance of your building, prevent surrounding litter and eliminate the risk of fire. You also ensure that those large, polluting trucks no longer have to visit you, because we come by electric bicycle. Also great for small quantities."
---
Want to end congestion?
From: Jennifer Keesmaat – A Special to The Globe and Mail. Published November 28, 2019
More is sometimes better. More candy if you are a child. More blankets if you are cold. But more isn't always better. More roads are not better if you are stuck in traffic. If you're sitting in your car going nowhere in the fast lane, it is tempting to assume that if the roadway was just one lane wider, it would accommodate all the cars beside and behind you, and you could easily get where you are going in half the time. If the same number of drivers continued to use the road following the widening, this would of course be true.
But we know from decades of experience that widening roads and highways simply facilitates a further explosion of sprawling land uses, and the perception of more road capacity inspires more people to drive. This phenomenon, known as "induced demand," results in meagre, if any, reductions in traffic or congestion after roads are built. If you provide more of something, particularly for free and in a high-density area, more people will show up to use it to its peak capacity. The roads will always be full, no matter how many of them you build. As a result, continuing the environmentally and fiscally ruinous practice of widening roads and highways – on the knowingly dishonest premise that they will reduce congestion – will make our cities, and the places we live, worse.
Houston's now-infamous Katy Freeway, a 26-lane highway, is the ultimate case-in-point of this reality. The freeway was widened between 2008 and 2011 at a cost of nearly US$3-billion. Traffic data collected three years later showed that travel times had increased by 30 per cent during the morning commute and 55 per cent in the evening commute.
What's the answer?
Put a price on our roads.
In places where it has been implemented, revenue from road pricing has been reinvested into better public-transit options, even in cities such as London and Stockholm, which already have much very extensive transit infrastructure.
Read the whole article here.
For a comprehensive look at what Infrastructure Victoria and Committee for Melbourne think about road pricing, check out this Webinar. The Infrastructure Victoria report can be referenced via this link where they say:
"The report Good move – fixing transport congestion shows that a comprehensive change to the pricing of roads, public transport and parking is key to motivating people to change their time and mode of travel, resulting in a more efficient and fairer system for all Victorians."
We need to reach a moment in time where we just hop off this crazy merry-go-round and decide to stop the road building insanity – which is compromising our quality of life, our productivity, our health and our capacity to meet our carbon-reduction targets.
In Melbourne, let's totally re-evaluate the North East Link project and spend most of the projected funds on better public transport, and far better Active Transport options.
And on a related topic, check out the next article for some sensible advice.
---
Covid car-clogging. How to avoid it
"As we re-open our economy and workers gradually return to workplaces, overall travel will increase. However, the need to maintain social distancing means public transport can't operate at usual capacity. And fears of crowded public transport will lead to commuters making a much higher proportion of trips in private vehicles – unless they are offered viable alternatives such as the ones we discuss here."
This quote from The Conversation 22 June 2020 by Iain Lawrie and John Stone, both from University of Melbourne, is even more relevant now, a month later when Melbourne is back in a more severe Covid-19 lockdown again.
They continue:
"Our initial analysis (as yet unpublished) of Australia's major cities suggests a shift to cars will produce severe traffic congestion if even a modest proportion of the workforce returns to their usual workplaces during the COVID-19 recovery. In this article, we suggest some public transport solutions to avoid congestion caused by a shift to car travel."
Read the complete article here.
---
Walking economics
Victoria Walks has commissioned some really valuable reports over the years. This excellent report "The economic case for investment in walking" was prepared by Arup consultants Yostina Badawi, Dr Francesca Maclean, and Ben Masonin, Nov. 2018.
In these Covid-19 challenged times, the report is even more relevant now than when published. Scroll through it just below here to get a feel for the content and download if you need it. You'll be glad you did!
Check out the Victoria Walks website too. Its a great resource for all.
---
Active travel studies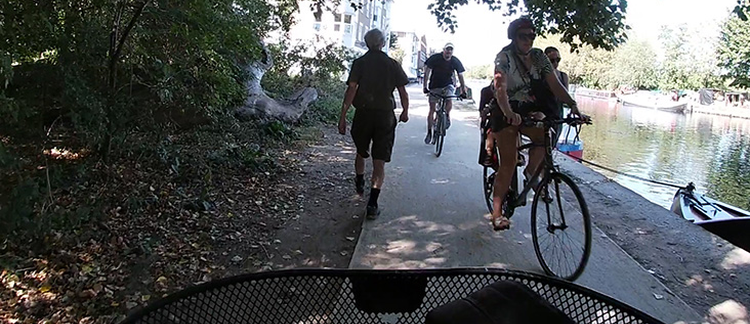 Active Travel Studies is a new, peer-reviewed, open-access journal intended to provide a source of authoritative research on walking, cycling and other forms of active travel. In the context of a climate emergency, widespread health problems associated with inactivity, and poor air quality caused in large part by fossil-fuel transport, the journal is relevant and timely.
It will perform the critical function of providing practitioners and policy makers with access to current and robust findings on all subjects relevant to active travel.
The journal is produced by the Active Travel Academy at University of Westminster.
Check it out here: https://activetravelstudies.org/
And some studies for you too?
A FREE course about Active Travel to help you take action and Reclaim the street
Take an online 4 week course run by Professor Marco te Brömmelstroet – University of Amsterdam. It has only just started a week ago, so if you are quick, you can join and catch up! Or join it later in the year.
Click here for details and to sign up.
---
Smarter helmets
What is MIPS, and why is it important in a helmet?
MIPS stands for Multi-directional Impact Protection System. It is described as a "slip-plane" technology. This works inside the helmet and is designed to reduce rotational forces that can result from certain impacts.
MIPS equipped helmets can provide more protection in certain impacts, so why would anyone not want a potential added level of safety and protection when out riding their bikes?
What happens to your head in a crash?
Check here for more information. And here for even more!
It might just change your mind … and let you keep your mind next time you come off your bike.
---
School travel
We had some thought provoking material about helping to get more Aussie kids using Active transport to get to school rather that being chauffeured in a car. But with Covid-19 now causing all schools in Victoria to close, we'll hold that over until next time when hopefully schools may be getting ready to open again.
Look out for it next time!
---
The future and your say in shaping it
The Suburban Rail Loop (SRL) – Melbourne
Click here (or the map) for LOTS of information
Then have your say.
How will it affect you?
How will it affect the urban areas it connects?
What do you like/dislike about it?
Look up the places you visit or are associated with, and mark an interactive map with your comments.
Here's a link to some SRL videos to help you understand what's happening.
---
Learning from Covid-19
Can Covid-19 teach us something for the road safety epidemic?
(NOTE: This article from World Bank Blogs, is reproduced here on the basis that, hopefully, a resolution of the Covid-19 disaster will occur, but the world's love affair with cars will still leave a similar deadly problem to be tackled. It is in no way intended to suggest that Covid-19 is anything other than a catastrophic situation at present.)
As the world struggles through the tragic COVID-19 pandemic, it may be also worth considering another health crisis, which has been silently going on for decades. COVID-19 and road crashes wreak suffering, loss, death, grief, and economic hardship. COVID-19 has already killed 119,000 with more to come especially as the pandemic hits low- and middle-income countries with low capacity to manage the crisis. Road crashes kill 1.35 million people and injure up to another 50 million people each year.
Various comparisons between COVID-19 and road crash deaths are being made, some suggesting that the scale of the road safety problem puts the seriousness of the COVID-19 crisis in perspective. Rather than comparing the extent of suffering and death wrought by these two horrific causes, there may be broader lessons we can learn to save many lives and much future suffering. Six such lessons for consideration after COVID-19 is gone, for the future of transport, work, and cities are suggested here.
Reducing exposure to road transport
Re-envisioning our working lives, transport and infrastructure
Maintaining our values
Embracing system accountability instead of touting individual responsibility
Addressing the political dimension
Developing stronger deterrence of lockdown breaches
The current dramatic experience with COVID-19 provides guidance on re-design of our work and cities as well as generating revamped government accountability for health externalities caused by traffic, particularly road crashes and fatalities. Along with all the suffering, loss, and upheaval of COVID-19, we have the opportunity to evolve.
Click here to read this entire excellent article.
Reproduced from:
---
Let's insert 'al' into Austria if we can!
Spotted an e-bike charging station at 1,800 m above sea level in the Alps! Folks in the Zillertal in Austria take active travel seriously. Nice to see how e-bikes get people, locals and tourists alike, out and about exploring nature without their cars. Also a great way to motivate people to try out cycling who would not be able to otherwise due to health issues. Hopefully, some tourists will be motivated by their vacation experiences to keep on cycling back home.
And hopefully some folks back home in Australia, will give e-bike facilities some prominence here too. Be an excellent part of a bike-tourism-based Covid-19 recovery strategy.
A LinkedIn post from Tine Haas, CPEng, IntPE(NZ) • 1st Principal at Dornier Consulting International GmbH 19h •
---
Interested in being Active too? Here's how
Join a local group that enables you to be active and social too!
Like walking (and some bike riding too)?
2. Or is regular bike riding your idea of fun?
Whitehorse cyclists
We are a happy group of men and women who love the outdoors, enjoy riding bicycles and thrive in other people's company.
Bike parking is easy for morning tea time at Aqualink Box Hill during a Whitehorse Cyclist's Easy Tuesday ride.
Around 25 riders getting fitter and enjoying the company of friends.
Good for local business too by putting money back into the local community.
---
Some questions for YOU
If you HAVEN'T received these newsletters regularly every two months, this question is for YOU.
Did you enjoy THIS newsletter, and would you like to read future newsletters every two months?
Thanks for answering!
.
and…
2. $$$$ – Annual Memberships are now due. Click here to pay a membership.
and…
3. More $$$$ – like to make a Donation to help us keep the newsletters coming? Click here.
---
FINALLY – until next time that is!
In these Covid-19 times:
Keep safe
Keep healthy and active
Keep thinking of ways YOU can help make Active Transport a reality for all.
---