Another reminder for you about Active Transport and how healthy it is for all.
---
A Spring Festival – just for you!
The Whitehorse Spring Festival attracts a very big crowd each year because it's great fun for the whole family.
Make sure you come and say hello – we'd love to see you and have a chat.
---
Now that Spring has Sprung are you all in a Twitter?
Has POTUS GOTUS worried about Twitter by using it to conduct World Politics? Well, let's not shoot the messenger 'cos we don't like the message. Twitter can be a great way to succinctly convey really good ideas. So in this edition we have included just a few Tweets that have recently come to the @WATAG10 Twitter account. There are some valuable ideas that we think would assist the development of Active Transport here in Melbourne and particularly in the Whitehorse area. Here are some recent 'gems' sent via Twitter.
---
A silent message
---
The economics of walking

That's pretty good value. Local Councils please take note!
---
Fit to ride?
Over two years ago, Klaas Meekel became a double leg amputee. While in Rehab at Talbot (a division of Austin Hospital Melbourne) he had to re-learn how to do things such as getting in and out of a car, cooking and showering. Klaas also had to learn how to walk on his prosthetic legs. "They taught me how to use a walker, then two walking sticks, then one walking stick but I haven't quite lost the one walking stick yet though." Klaas had been very active and fit and cycling was one of his passions. It's also something he thought he would not be able to do again. While in Rehabilitation, Klaas first saw a hand cycle in the spinal injuries gym. "I thought to myself, that looks interesting."
Check the full story here.
How many of our planners have someone like Klaas in mind when they design some of infrastructures such as pram crossings or bollards and barriers at the entrances to shared paths?
---
Making it safe for the less-than-fit (and others too) to get active.
Action on Street Crossovers
With people like Klaas in mind, WATAG has took this question up with City of Whitehorse prior to the last Budget being approved. We asked the Council
inter alia
to:
Develop a strategic program to upgrade footpath crossovers throughout the city to address safety issues for mobility cart/wheelchair users, pedestrians and cyclists. It needs a specific ongoing annual allocation made by council to bring these substandard crossovers up-to-date as soon as feasible.
The Council responded with the following
amendment
to its 2019/20 Budget so that Council
"Allocates $50,000 for additional improvements to footpath crossovers for improved access for cyclists to shared use paths."
We note that Councils don't amend budgets easily from what is planned, and do so very rarely! The WATAG request was mainly to enable Council to modify existing poor crossovers so that less-abled folk would be able get about more safely. It was not principally for cyclists. However it is good that a specific budget allocation now exists to deal with poor design crossovers. We hope that a specific program can now be developed to identify crossovers needing attention, prioritise the work, and
most importantly
, spend the money and do the work.
Action on Bollards
We've
written before
about the benefits of using Snap Send Solve. So it's really pleasing to report that Whitehorse Council has officially agreed to work with Snap Send Solve to receive reports about hazardous or other reportable situations encountered while walking or riding. Refer to the
Council website.
We are pleased to report that it really works!
Snap Send Solve reports made over several years , plus a recent detailed report form WATAG has lead to several bollards being removed. Two that many readers might be familiar with were on the Gardiners Creek Trail which is Strategic Cycling route. WATAG sent the following Tweet from
@WATAG10
Other bollards elsewhere in Whitehorse and in other cities and have similarly been removed after Snap Send Solve reports were sent – see below.
Give it a try yourself, and not just about bollards. Whitehorse Council tells us that It's now a preferred way to communicate a problem to them.
---
Back to the Future?
---
In what country would you see the King, Queen, and Prime Minister of the Netherlands using bikes as mode of transportation? With 35,000 kilometres of separated cycle tracks and 22.8 million bicycles, cycling is a part of everyday life in the Netherlands!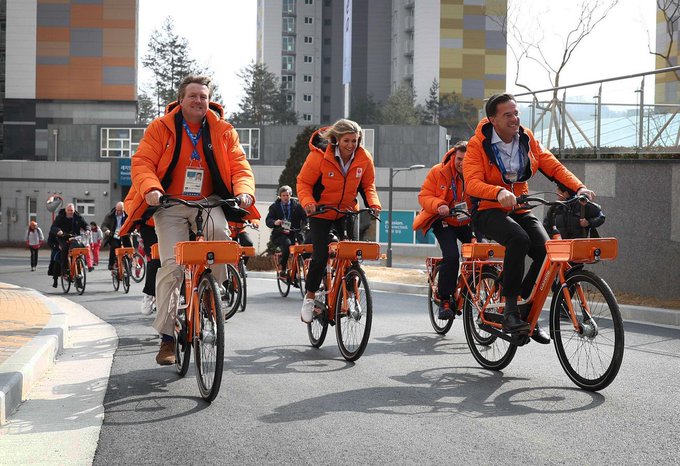 WATAG's aim is to make cycling similarly safe and enjoyable in Whitehorse. When the infrastructure is there so that the CEO and Councillors find it enjoyable and stress-free ride to work at the Council offices and to Council meetings, we will all feel safer too.
---
Cycling for shopping and with kids clearly is possible!
From @PenEngineer
Or even without kids!
Or even moving kids without shopping!
Don't go to your local bike shop and ask for one of these! This 'Tarago People Mover' tandem bike for three is custom made. Mum or dad steer from the middle whilst the younger rider gets to pedal from the front. The comfy seat at the back lets an even smallest person enjoy the ride too.
Kevin Centra and his sons Sebastian (3yo) and Xavier (1yo) are regulars around Torquay. Kevin had the bike custom made by a relative who built it from a couple of discarded bikes
Xavier learnt to ride on a balance bike and is now a fully fledged cyclist in his own right if he is not helping dad push the "Tarago bike". Family bikes and cargo bikes are a not unusual these days, and help get many more people active. Well done Kevin!
Want some real inspiration?
Watch this great video. You'll be glad you did!
---
More on Kids & Bikes
Bike It!
This is a one day bicycle skills competition for Grade 5 and 6 students to showcase their bicycle skills and compete against other schools in a friendly environment.
The event aims to encourage health, sustainability and safe riding behaviour – AND get more students to ride to school instead of going by car. The event is run by Boroondara and Whitehorse councils in conjunction with Road Safe Eastern Metro. This year the Bike it! Challenge is on Wednesday 20
th
November 2019 at Elgar Park It is a great opportunity to reinforce the skills obtained from the
Vic. Govenment Bike Ed
program and to encourage and support students to ride to school. WATAG has offered volunteers to help. If you'd like to help supervise the activities too, contact:
Serman Uluca
Active Transport Officer Engineering and Environmental Services Department
Serman.Uluca@whitehorse.vic.gov.au
---
Do YOU drive the kids to school?
If so, you are not alone!
This article
by Kate Aubusson (Sydney Morning Herald 22 Jan 2018) reports that two thirds of children are driven to school because their parents said there was too much traffic on the road for them to walk safely? What did they do?
Got out their cars and added even more traffic to the roads around THEIR school!
Check out this article from our May-June newsletter :
Children in the car era
---
Study shows sport not helping teens meet physical activity targets
Australia must think beyond just organised sport if it wants to get teenagers moving, according to a new
Deakin University study
that found sport participation has a negligible impact on helping adolescents meet physical activity guidelines. The study found that despite playing sport, students had just seven minutes more vigorous physical activity than those who didn't play sport. The report's author Dr Koorts noted that governments invested heavily in promoting sports participation as a key strategy to increase physical activity. "Australia has one of the highest rates internationally of organised sports participation among young people, yet it is one of the most physically inactive countries internationally," Dr Koorts said. "This is because physical activity incorporates not just sport but also play, active transport, physical education and recreation at moderate to vigorous intensities." "In 2016 Australia received the second lowest score for the proportion of young people meeting the physical activity guidelines – at least 60 minutes of moderate to vigorous physical activity."
Unfortunately local Councils concentrate on the provision of infrastructure for formal sports at the expense of other ways of getting necessary exercise.
Whitehorse Council's latest budget perpetuates this problem.
The budget direction as far as Active Transport is concerned, is very bleak!
WATAG made a detailed submission – see the document below. or
download here
.
What's the future?
WATAG urges Whitehorse Council to consider the research noted above, and change its approach for 2020/21 so that non-formal sport activities receive a much bigger slice of the cake. Sports pavilions and ground improvements make great headlines to impress residents that Councils are "doing something". However Councils must consider the long term health benefits of make a much bigger contribution to help everyone particpate in far more active transport and non-formal outdoor activities. People must be able to do this safely and conveniently. or it just won't happen. As world renowned city planner Brent Toderain says:
"You have to make walking, biking, and transit not just available, but delightful."
---
NEL – NOT the final word, but a very good one!
The North East Link Community Technical Discussion Group (CTDG) – Walking and Cycling produced an outstanding independent report on … (you guessed it!) … Walking and Cycling opportunities which could be implemented as part of the NEL project. The NEL refused to include these sensible options in the 'reference design' and said it would be up to the bidders for the project to use these ideas to enhance their bids. This is effectively saying that Walking and Cycling ideas beyond the absolute bare minimum, are a kind of window dressing – an after-thought – to catch the Government's attention. Of course they will also be used by the Government to tell the public "look at the great recreational and Active Transport facilities we are providing for you". WATAG members were extremely active on the CTDG, and had a major impact on the report's content and its preparation.
WATAG members also spent many hours preparing submission for the EES hearings into the NEL, and then spent many days actually at the hearing presenting their submissions.
Check out the submission report here.
---
Help needed!!
Become a WATAG Member.
An Annual membership of $10 or less helps support us, and most importantly your membership will increase our relevance when we reach out to the local authorities and the community. Visit the
WATAG Membership
page and sign up today.
---